Tenchi's sword hilt
june 2008
Tenchi Muyo! is an anime and manga series about an ordinary boy living in Tokyo and the alien girls who arrive and pursue him romantically.
I was commissioned to create the hilt of Tenchi sword from the anime series Tenchi Muyo! This weapon creates a lightsaber-like blade (which I will not be building!)
After sizing my template to fit the wielder's hand, I cut it out of 3/4″ MDF.
With a combination of exacto blade and Dremel, I carved the pattern into the MDF.
I didn't have any reference for the back so I extrapolated the front pattern to wrap around the other side.
Once it was cleaned up I painted my base colors with acrylic paint.
The wood grain on the pommel was hand-painted to preserve an organic look.
I then took the base color and dusted back the lines.
I added 11mm ruby acrylic gems to each side and applied a wash to bring out the details of the carving.
A few years later, I was commissioned to make a custom hilt for a wooden martial arts practice sword. I was able to get my original Tenchi hilt on loan from the original client to make the new one.
I cut off the guard and shaved down the hilt to reveal the tang.
Since the tang didn't extend all the way through the hilt, I reinforced the grip with pieces of cherry.
In order to make the hilt fit around the wood, I had to make the hilt thicker. I glued 1/8" basswood to each side to make the hilt 1/4" thicker.
I finished the edge, blending the basswood with the resin.
After clamping the sides together, I rescribed the lines that crossed over from one side to the other.
I also carved the wood grain into the pommel rather than just painting it on.
The blade had some distortion and damage from use, so I sanded a fresh edge and filled any nicks.
After the resin halves were completed, I placed them in a mold box and applied a thinned coat of Smooth-On MoldMax Stroke to capture detail. Once that cured, I applied a thick coat of Stoke to build the mold walls.
I used the cutting attachment on my Dremel as a router to carve a slot in both halves.
I used two-part epoxy to glue the blade inside the two halves.
A fresh coat of primer on both hilts in preparation for final painting.
The new Tenchi hilt (left) compared to the original. The new grip is 1" thick and feels like a proper sword grip.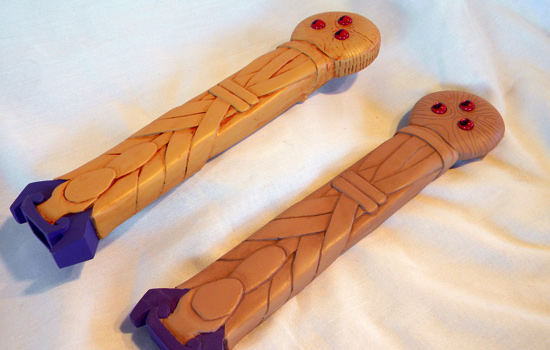 Detail to better show the thickness difference.
The blade in the final Tenchi grip.