ragnell sword
APRIL 2009
Super Smash Bros. is a series of crossover fighting games published by Nintendo, that primarily features characters from franchises established on its systems.
I was commissioned to make Ike's Sword Ragnell from the video game Super Smash Bros Brawl.
I started with a 5/16″ steel rod for a core. I cut a channel through a 1/4″ thick plank of poplar to contain it.
I glued 2 more 1/4″ poplar planks around the steel and cut the blade profile.
I shaped the edge on the belt sander.
Much paint and putty later I smoothed out all the bumps. The decorative piece at the hilt is carved out of 1/4″ MDF.
The cross guard was cut from 1/4″ poplar just like the blade.
The cross guard was detailed with plastic sheets.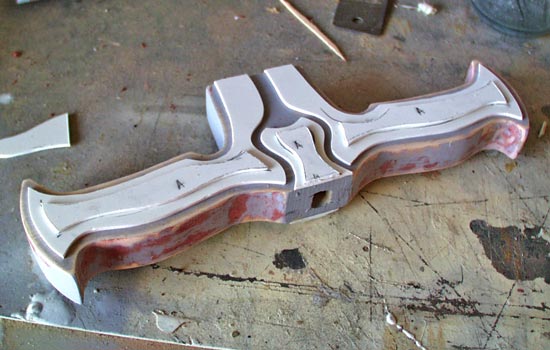 The second layer was added to both sides.
I didn't like the blockiness of the guard so I popped off the plastic and sanded contours to the guard. I heat formed the plastic detail to fit.
The grip was lathed from a pine dowel. I cut it in two so that I could drill out a channel for the steel rod.
I made the blade "case" from MDF and sanded it to shape.
Once it was in place, I notched the case to allow the guard to fit.
I heat formed more plastic around the case and cut the trim out.
I used a blade to cut ribs in the trim.
The sword assembled and painted.
The hilt was painted with a metallic flake black.
Acrylic gems were glued in place.
I later received a commission to build another Ragnell sword and decided to make some changes from the previous build. In order to keep the grip as one piece, I glued and bolted together two pieces of basswood after precutting the channel for the steel rod down the center of each side before lathing the shape.
I made a template of the curve on the bottom hand grip and drew lines for the fluting.
I carved out the grip flutes with blade, chisel and files.
The blade cap was made with pieces of 1/4″ poplar glued together instead of MDF. I shaped it on the belt sander
After all the shaping was done, I filled holes and seams with Bondo.
To get a tight joint, I covered the blade with plastic wrap and filled the gap with Bondo, squishing out any excess.
Instead of using plastic for the trim, I used epoxy putty, sculpting and sanding it to shape.
I used silver and black metallic Rustoleum paint on the grip.
Grip detail. I drybrushed some silver on the crossguard to bring out detail and tie the whole sword together.
This is how it was shipped. The client could glue it together upon receipt, although the fit was pretty snug.