fate/stay night spear
january 2011
Fate/stay night is an anime that chronicles a two-week period in the life of an amateur magus who attends a school in Japan.
I was commissioned to build Gáe Bulg, Lancer's spear from the anime Fate/Stay Night.
I started by lathing the head and tail shafts out of a single piece of basswood.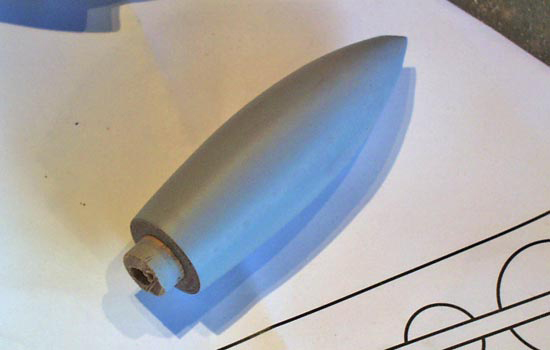 Since the tail spike would be coming in contact with the ground and basswood is soft, I made the spike out of oak.
The spike is glued into a hole in the base of the tail piece.
I cut out the blade and glued it into a notch in the head piece.
The seam was puttied smooth.
A central spine for each side was formed from a 1/4″ wood dowel. It was sharpened to a point on the belt sander and then split in half.
Decorative discs were cut out of styrene and glued to the sides of the blade.
I drilled each end of the main shaft dowel and fit thread inserts. This will allow a 1/4″ threaded rod to screw the head and tail pieces to the spear shaft.
I printed out a template for the shaft markings and transferred them to the dowel with carbon paper. I traced over the pencil with a Sharpie, correcting areas that didn't look right.
I used puffy paint to apply the design to the shaft.
The shaft has three circles on each side of the shaft.. I drilled out a hole and then glued a plastic disc to each.
All parts received a base coat of metallic silver and then a top coat of metallic red automotive paint.
The head and tail pieces painted.
The parts disassemble for shipping.
The assembled spear is over six feet long.